Your Betterment is Our Satisfaction. Members of the PPAA benefit from the friendly and encouraging atmosphere offered by the PPAA and enjoy a wide variety of benefits, which include ample opportunities for socializing, utilizing the Association facilities, enjoying discounts, participating in career and public leadership exposure activities and many more. The PPAA maintains a strong presence among students of each year of the HKU Department of Politics and Public Administration.
The PPAA Orientation Camp, typically attracting almost sixty new and current students to a scenic campsite, is the Association's signature function in building strong networks between current and new students and distinctively unlocking the university life for freshmen. The PPAA Orientation Camp is not only about fun, the unique games and activities are highly relevant to global affairs which help students acquire interpersonal skills, and at the same time, experiencing the proud traditions of the Association under a relaxing atmosphere.
The Annual Dinner is a golden opportunity for students to gather with professors, alumni, and distinguished guests, while the Super-pass Lunch offers the chance for Members to socialize among each other and chat with tutors.

The PPAA publishes at least two copies of The Hong Kong Student Review of Political Science (SRPS) and one POLITIKA Annual Journal every year, distributed free of charge to all Members. These journals are renowned for being one of the oldest and most insightful student-edited publications on Political Science in the entire region, which include award-winning student articles and academic works from academics in HKU and overseas universities such as Harvard, Oxford and London.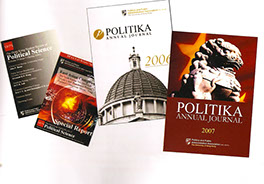 PPAA also distributes free past papers of a vast number of subjects exclusively to its Privileged Members every semester.
Members have the privilege to:-
a) Attend and speak at all General Meetings of the Association;
b) Participate in all Association events free of charge or at a lower cost;
c) Use the facilities of the Association as provided by the Executive Committee.
MERCHANDISE AND WELFARE PRODUCTS
PPAA produces a variety of welfare products which may include association jackets, t-shirts, stationery, note paper, accessories, and many more. If you are interested in purchasing or taking a look, please feel free to contact Acting Marketing Officer (Fion Leung) at fionleung.ppaa@gmail.com.


©1973-2017 POLITICS AND PUBLIC ADMINISTRATION ASSOCIATION SSS HKUSU
c/o DEPARTMENT OF POLITICS AND PUBLIC ADMINISTRATION, THE UNIVERSITY OF HONG KONG
COPYRIGHTS OF THE MATERIAL FEATURED ON THE WEBSITE GOES TO THEIR RESPECTIVE OWNER
ENQUIRES ON THE WEBSITE SHALL BE DIRECTED TO Karen Sit AT karensit.ppaa@gmail.com